Ten years ago, V's editor-in-chief, Stephen Gan, met Lady Gaga for sushi in the East Village. A recent graduate of the Lower East Side club scene, pop's latest anti-ingénue (innocence was never really her shtick) was on familiar turf. A beautifully calloused voice with a polished cultural vocabulary, miles beyond her 22-year-old contemporaries, had landed Gaga's debut album atop international charts less than a year prior. The Fame manifested something. Gaga, in all her bizarre glitz and glam, was becoming the industry's unexpected new darling. But Gan believed in her ability to become more than another pop-star archetype. Whatever glow he saw in her that day were the early embers of an artistic fire—one that he'd fuel and document for the decade to come.
Gan wanted to pair Gaga with Jean-Paul Goude the moment he met her. She told him it would be a dream to work with such a legend, but that she already had her Jean-Paul Goude. Matthew Williams, the man now behind L.A.-inspired label ALYX, had called Gan to meet with Gaga in the first place. Acting as her creative adviser, Williams was determined to introduce the budding star to the fashion world's glitterati. Much like Goude and Grace Jones, the two were becoming a creative force to be reckoned with.
And so Goude would have to wait. Until now, that is. Said rendezvous launched a 10-year expedition, wading through a world of beautiful creative chaos—the combination of Gan and Gaga, whose love of the fashion canon was matched only by their desire to revolutionize it—culminating in this very moment. It marks Gaga's 25th cover with V Magazine.
Gaga first appeared in V60, lounging glamorously in a Riccardo Tisci–designed Givenchy dress and posed next to a similarly styled teddy bear—you know, for that touch of just plain weird. She told writer Mark Jacobs, her interviewer and an admirer of her "avant-garde statement costumes" and "cynicism-free materialism," that, "When you focus on something and commit yourself to it, your lie can become true."
And while "lie" might feel like a loaded word, Gaga had indeed been facing public doubts about her authenticity as an artist at the time. Her aggressively calculated wardrobe was often deemed a plea for attention rather than a genuine homage to the exhaustive list of idols she uses to color her everyday life. The hair bows of 2009? A tribute to the styles seen at a Jean Paul Gaultier couture show three years prior. The famous bubble dress? Inspired by designer Hussein Chalayan. The teacups that briefly became her red-carpet trademark?
Actually, that part was just Gaga. "I like to drink out of china. People made a big deal out of it," she told Jacobs.
By V61, her first cover with us, Gaga had already defied the fate of becoming a flash in pop's oily pan. And while most artists follow a career path that is relatively wrought with fluctuation, like a ship soaring above and then violently crashing into waves (the tide itself a result of the fickle public's opinion), Gaga's career had already proven to be a linear climb. But as she pointed out in her interview, it's pointless to compare her to other artists. "Look, when I was a brunette, they called me Amy Winehouse. When I was a blonde, they called me Madonna. Then they called me Christina, then Gwen."
The world was falling head-over-platform-heels for Gaga. She was singing, dancing, and dressing her way into the global consciousness as a household name. So too was Gaga falling in love with the world, particularly her fans. In V71, she told Elton John: "Art is my whole life. The [little] monsters are my medicine. They heal me, physically and emotionally, every night at the show…I feel God through their love." And yet few people really understood what she was trying to say beneath the disco ball dresses and Kermit the Frog gown, as she would suggest in later interviews with V.
"Does anyone really know what I've been through to get here?" she mused in a conversation with Marina Abramović for V85.
It seems that Gan understood, and thus invited her to be guest editor of V99, which culminated in 16 different covers, each one a love letter to the fashion world's "curators," as she dotingly called them. A year and a half before releasing her single "The Cure," Gaga wrote in her editor's letter: "I choose the word 'curator' to imply, also, the curing nature that their medium takes on. They cure themselves by making it, and then us by sharing it."
For ten years, Gaga's artistry has been an adaptive, widely applicable remedy, from critically acclaimed acting on the big screen, to her Enigma residency in Vegas, which would inspire the cosmic, futuristic couture queen seen now on our cover. Not bad for someone who, in her very first V interview professed a simple dream "of wanting to make something of [myself]."
But what is this new moment for Gaga; what will she make of  herself? If Goude's photos are any indicator, whatever it is will be out of this world.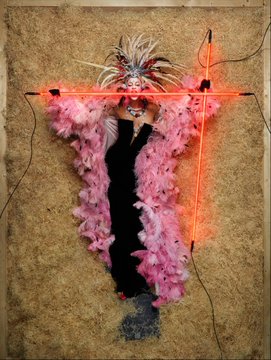 Toying with perception is one of Jean-Paul Goude's many gifts. The creative polymath has spent decades tickling the public's eyes by garnishing photographs with impossibilities so subtle that they often go unnoticed. The pose seen in one of his most famous works—ex-girlfriend and muse Grace Jones, grasping her foot behind her head while holding a microphone with the other hand—is not humanly attainable. It is, however, how Goude wants us to perceive her in that moment, and so we do.
"So, this is the way I work," Goude begins. "First, the idea and the sketches, then the shoot, then the manipulations, which give birth to the final hyper-realistic computer-controlled picture, that hopefully has the appearance of a spontaneous photograph. A rather painstaking endeavor." Indeed, Goude's convincing illusion of impromptu visual miracles has made him one of the most sought-after names in fashion. And yet Goude reminds us that he is not really a photographer.
"My timidity towards photography has to do with the fact that I've never considered myself a photographer, per se," he explains. "Photography is about capturing a rare moment, seizing an opportunity as it unfolds before your eyes. It's all about being reactive and spontaneous. I'm more of an illustrator of my own concepts, planning rare moments from scratch in advance. I enjoy manipulating my photographs. It feels like drawing, almost like filmmaking."
"We tried to turn gaga into a living doll, a living icon, like the figurines that people collect and put on their mantelpiece, but life size."–Jean-Paul Goude
Many of these manipulated photographs feature now-iconic celebrities. It is a subject that, according to Goude, has changed very little during his career.
"I like to do portraits. I did a lot for Esquire at a time when Warhol claimed that in the future, everyone would be famous for at least 15 minutes. Today, ironically, this obsessive craze with celebrity appears to me as a sort of dream come true, in spite of its silliness."
It made sense then, of course, to pair Goude with one of the world's biggest celebrities for our cover. But because Lady Gaga is one of the most photographed women, Goude turned to the cosmos and fantastical depths of his mind to create something unique. "With Gaga, we tried to bring to existence a fictitious character, straight out of my personal mythology: a sort of deity and the ruler of her very own Gagaland." The intergalactic aspect comes through clearly. "[Here, she is a] living icon, like the figurines that people collect and put on their mantelpiece, but life size."
And so Goude depicted Gaga in a way that was both bizarre and beautiful; extraterrestrial but with a familiar face. Before meeting Gaga, five years ago, he had his reservations.
"With Gaga, we tried to bring to existence a fictitious character, straight out of my personal mythology: a sort of deity and the ruler of her very own Gagaland."–Jean-Paul Goude
"The truth is that I had been prejudiced towards Lady Gaga," he admits. "She reminded me too much of my own short-lived experience in the disco business years earlier; just the sound of her name put me in a bad mood." Gaga changed his mind with one live show. "Her performance took me aback completely. She was great—her voice, her piano playing! I felt like a fool as I swallowed my mistake," he admits.
And so Goude's perception changed. Now, through his lens, we're able to see a woman we've seen countless times before in a new light. And suddenly, a star is born all over again. 
Pre-order the issue here!
This article originally appeared here.